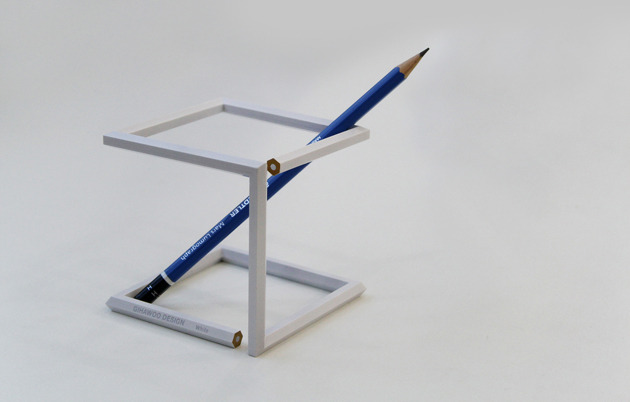 The twisted pencil desk tidy is by Seoul based designer Giha Woo. When I thirst saw images of it the form intrigued me, however the resolution wasn't very clear and I thought it was simply square extrusions. When I looked closer though the pencil form came through! It is a great play on the pencil pot in having it appear to be constructed from pencils itself.
I love the minimalism in this piece. There are no walls to hold things in, the lines of the pencil create a virtual space within the design. The openness also allows the user to quickly find what they're looking for, a problem that often involves emptying the entire pot with traditional systems.
From Giha Woo's site:
"Twisted pencil conveys aesthetic value with a nuance of amusement by expressing the relations between the two things – pencil and pencil vase. In comparison with general products, it isn't a pencil vase that can contain a lot more pencils, but it includes new aesthetics and morphological consideration about things."
Personally I feel that the blurb comes off as a bit pretentious  especially the last part. I think this is what can sometimes lead people to believe design is elitist and above the normal consumer. This is one of those products where yes you've designed a beautiful and humorous take on an everyday product, however it isn't the kind of product people are going to sit down and have deep philosophical discussions about. Blurbs need to be tailored towards the intended target audience.